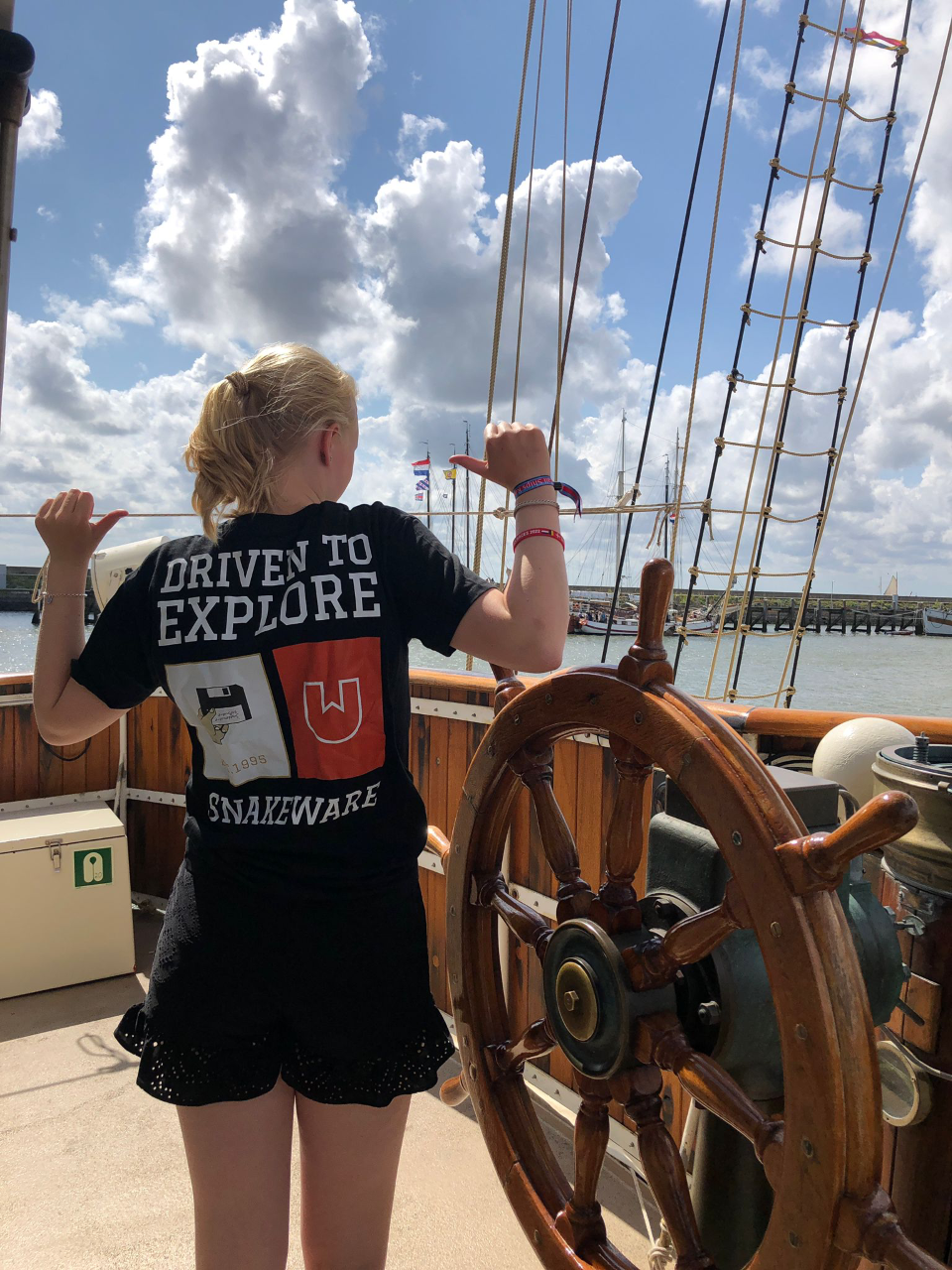 Sailing
success
for
Felina
at
Tall
Ships
Races
2022
Snakeware Supports Talent. At Snakeware, we are dedicated to supporting talent in various ways. For years, we have been sponsors of the Frisian Youth Orchestra, the main sponsor of the Children's Open-Air Theater (Berne Iepenloft Spul), and we support sports and games. We have a big heart for individuals with the drive and desire to develop themselves. This is how we came into contact with Felina Veenstra, who wanted to embark on an adventure aboard one of the ships participating in the Tall Ship Races. In this blog, Felina Veenstra shares her experiences during her participation in the Tall Ship Races Harlingen 2022, where Snakeware was one of the sponsors that helped her set sail smoothly.
Hi, I'm Felina Veenstra, and I joined this adventure for the experience. My goal during this journey was to enjoy, have fun, and learn from the people around me. The race went from Esbjerg, Denmark, to Harlingen. I sailed on the three-masted ship, the Gulden Leeuw. It was an unforgettable adventure that I wouldn't have wanted to miss for anything. I learned new things, met people from different countries, and had a lot of fun.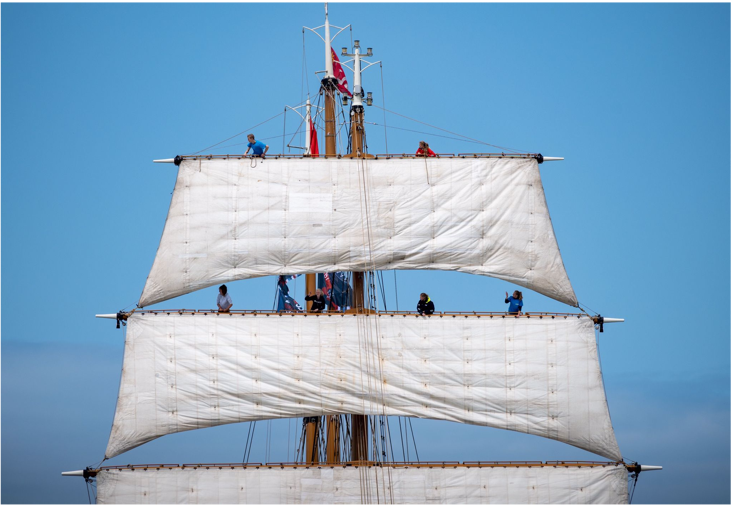 Day 1 - Saturday, July 9th:
Saturday was the day we traveled by bus to Esbjerg, Denmark, for the start of the Tall Ship Races to Harlingen. It was a long but enjoyable bus journey. In the evening, we arrived in Esbjerg and made our way to our ship, the Gulden Leeuw. Once on board, we introduced ourselves. We had a diverse mix of nationalities on board, including French, Danish, German, and Dutch. We received a tour of the ship and then quickly had dinner. Later at night, I had my first bridge watch from 00:00 to 02:00, which involved checking for any unauthorized guests and performing various checks. After that, it was time to get some rest in our cozy bunk beds.
Day 2 - Sunday, July 10th:
The day of the race start had arrived. In the morning, we had breakfast and received explanations about how things worked on board, including our watch schedules. I was in the red watch, a fun group of people. We then practiced with life vests. Finally, it was time for the sail-out to the race start, which was somewhere at sea. We had a great sail-out and enjoyed the cheers from people on the shore. At 18:00, the race officially started, and the first sails were set. We got off to a good start. Some people quickly became seasick due to the rough waves, but fortunately, I didn't experience any seasickness. So, I enjoyed the view. We went to bed early as our first night watch was scheduled.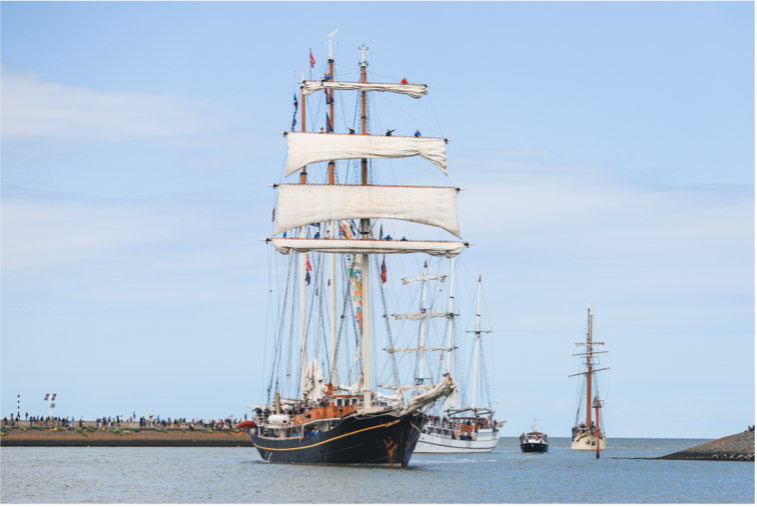 Day 3 - Monday, July 11th:
The day began at 04:00, an early morning. We learned a lot about sailing during that time. We managed to catch some sleep in between. Later in the day, we had the afternoon watch, which was calm as there was very little wind. After that, it was time for our first happy hour with all the watches. We played music and cleaned the ship quickly. We needed to change our course to reach the next point in the race. In the evening, we continued working hard, and we succeeded in reaching the next waypoint.
Day 4 - Tuesday, July 12th:
On Tuesday, we were woken up early to help set the sails to avoid colliding with another ship. It was an "all hands on deck" situation. After being roused from our sleep, our watch began at 08:00. Due to the location of the finish line, we had to sail westward for a while and then head south to avoid crossing the finish line too soon. During the watch, I climbed up the mast to secure the sails. It was an incredible experience with a breathtaking view out at sea. Later, we played games, braided hair, and had a great time. Then it was time for happy hour again, and we quickly cleaned the ship. The evening watch was calm, and we enjoyed a beautiful sunset from the net at the front of the ship. Afterward, we made keychains with Pim and our watch group. Then it was time for a good night's sleep to be ready for the next day when we would cross the finish line.
Day 5 - Wednesday, July 13th:
Early in the morning, we reached the finish line in our class and secured 10th place. Today, we had galley watch, which meant kitchen duty. I was responsible for dinner with the girls from our watch. Our friendly cook from Germany made every meal special, and we recognized all the leftover ingredients in the soup every day. In the late afternoon, we saw land again after nearly a week at sea, and we arrived at Vlieland and Terschelling. After dinner, we docked in the harbor of Harlingen, and it was happy hour again. I then secured the main sail and mizzen sails with Sanne and Selina (crew members). In the evening, we enjoyed the sunset on the dike with a small group.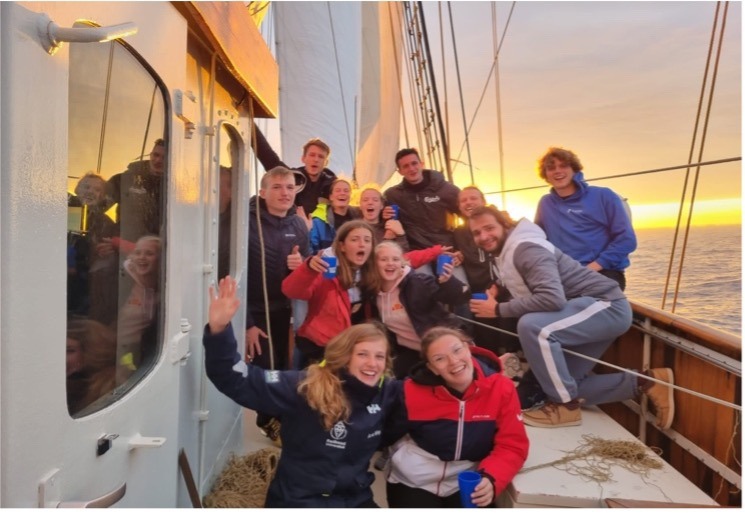 Day 6 - Thursday, July 14th:
The day of the sail-in arrived, where all the boats sailed into the harbor of Harlingen together. First, we had to clean the entire ship during happy hour. Since we had arrived the day before, like many other ships, we had to sail back a bit. This time, we had guests on board to show them what we had learned on the Gulden Leeuw. During the sail-in, I sat in the nets at the front (bow) of the ship with a group. Then, I climbed to the top of the mast to wave to all the people below during the sail-in. It was an amazing experience! After docking, we folded and secured the sail in the bow. In the evening, we had a lively barbecue with music on board the ship. Later, we headed to the main stage to celebrate. I had a bridge watch at 23:30 to ensure no unauthorized guests, especially those who might have had a bit too much to drink, would climb on board.
Day 7 - Friday, July 15th:
The last full day had arrived. The morning started with sports activities against trainees from other boats. This was incredibly enjoyable as it allowed us to get to know even more trainees. We quickly had lunch because it was time for happy hour again. After that, we got ready for the crew parade. We put on makeup, wore our Gulden Leeuw shirts, and donned Hawaiian leis. And off we went to the crew parade, which was an incredible experience. All the enthusiastic and well-dressed trainees paraded through the city. At the end of the parade, we gathered at the main stage for the prize-giving ceremony. Our ship, the Gulden Leeuw, won the award for the best-dressed ship in port! After the crew parade, it was time for the crew party. First, we had dinner with all the trainees, and then we had a fantastic party, filled with laughter, dancing, and jumping. Later, we returned to the ship.
Day 8 - Saturday, July 16th:
Saturday, the last day, had arrived. The alarm went off early, and everything needed to be packed and cleaned up. Everyone was extremely tired. It was quite a challenge to fit everything back into our bags. Then we had one last happy hour, and each watch had to clean everything one more time. Afterward, it was time to say goodbye, which was an emotional moment as we had become a very close and tight-knit group in just a few days. We then disembarked, headed home, and had to re-adjust to life on solid ground after getting our sea legs. Mostly, it was time for some much-needed sleep.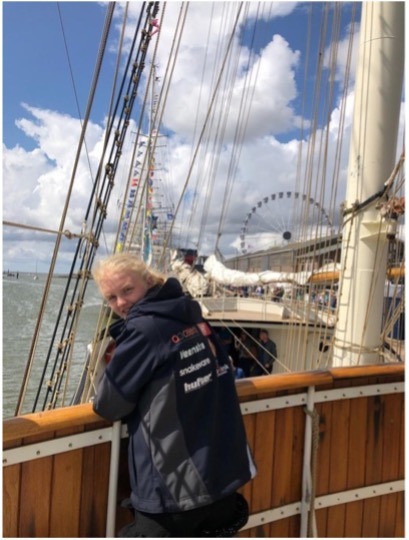 Looking back on this journey, I learned a lot from everyone's motivations, drives, and cultures. I realized that you don't have to be the same to connect with each other and that you don't need much on a ship like that. My goal of enjoying myself, having fun, and learning was definitely achieved. I learned that when you're truly enjoying yourself, you don't need to be on social media all the time and that making memories is more important than taking photos. The week without a phone turned out to be quite enjoyable. I also learned how to provide leadership within a group. Everyone had a turn as the leader of the watch, and I found working together enjoyable, especially with such a fun and enthusiastic group of trainees of different ages and from different countries. My fear of speaking English also diminished. I used to find it challenging, but now I just speak it without worrying about making mistakes. You don't need to memorize an entire English dictionary to get by.
And I did it—I love climbing, and during the Sail-In, I was up at the top of the mast! What an experience and feeling of freedom!
I would like to express my heartfelt gratitude to:
Snakeware, Zee van Hout en Meer, Veenstra Installatie, HDV, Accelent en familie.