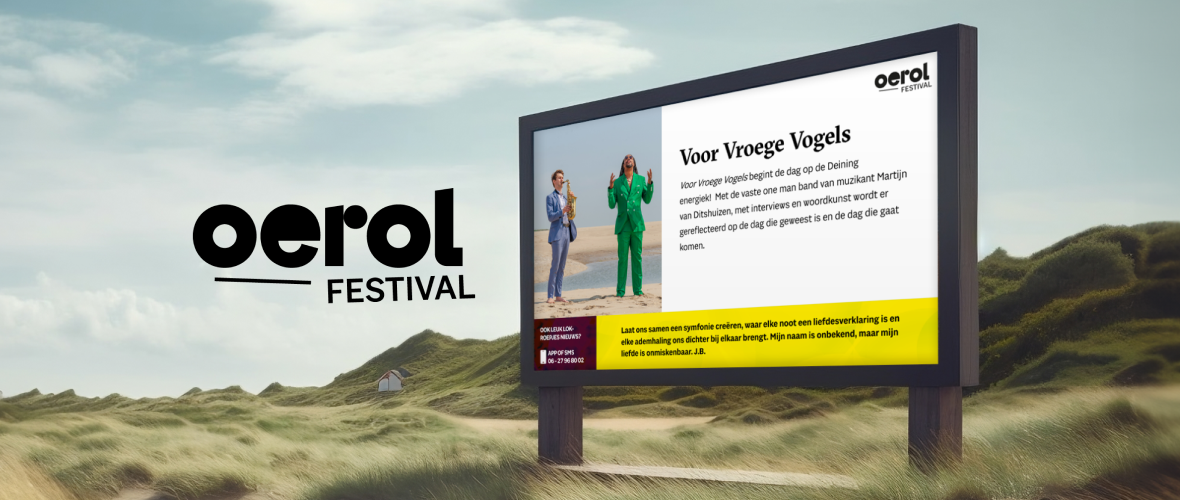 Snakeware
proud
sponsor
of
Oerol!
Snakeware is delighted to announce its sponsorship of the Oerol Festival, a celebration of art, theater, and music on the beautiful island of Terschelling! As a leading data-driven digital agency, Snakeware has developed a special Oerol edition of its digital screen application, which will be displayed at the festival grounds and in the harbor, among other locations. These interactive screens will showcase the latest news, relevant program information, and even "calls" - short messages that Oerol visitors can send via SMS or WhatsApp, displayed at the bottom of the screen. It's a fun and interactive way to connect with fellow festival-goers!


The Oerol Festival takes place from June 9th to June 18th, transforming the entire island into one vibrant Festival Heart. Imagine exploring the picturesque Terschelling while immersing yourself in endless entertainment. Whether you're a music lover, a theater enthusiast, or simply looking for a unique adventure, Oerol Festival offers something for everyone.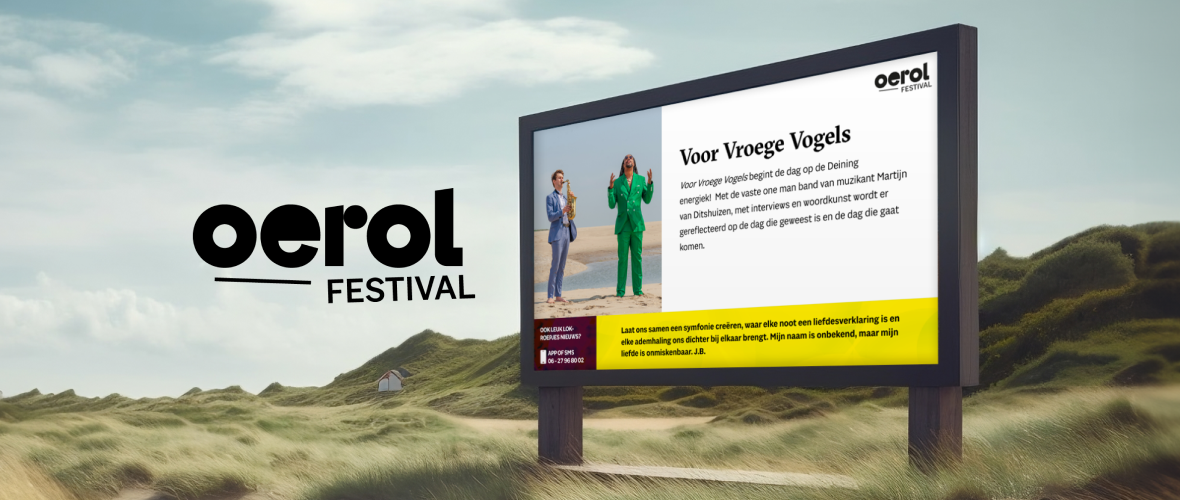 Snakeware is pleased and proud that the festival organization has asked them to provide a solution for festival visitors using their proven and flexible software, which is also applied at Rederij Doeksen in terminals and ships. The communication staff at Oerol can quickly and easily gather and publish all information, making the timeliness of programming, arrival and departure times, or other important information readily available at the harbor and on the festival grounds.
Ate van der Meer, CEO of Snakeware, shares his enthusiasm: "Oerol Festival is a fantastic event where creativity and experience come together. We are excited to put our expertise to work and collaborate with the talented people behind the scenes. With our digital screens, we offer visitors a unique and dynamic experience, allowing them to enjoy everything that Oerol has to offer even more."


Get ready to be enchanted by ten days of theater, music performances, art exhibitions, and numerous other exciting activities. From intimate performances hidden in the island's nooks and crannies to unforgettable parties at the new Festival Heart, Deining (near West aan Zee, close to Paal 8), you'll always find a friend in the crowd and endless fun into the late hours! Don't miss out on this amazing experience! Visit www.oerol.nl for more information about the Oerol Festival. Or if you'd like to learn more about Snakeware and our innovative solutions, please contact us, and our experts are ready to assist you!
* Image and logo are sourced from www.oerol.nl